Almond Milk And Honey Soothing And Caring Shower Cream 250Ml
ITEM 285083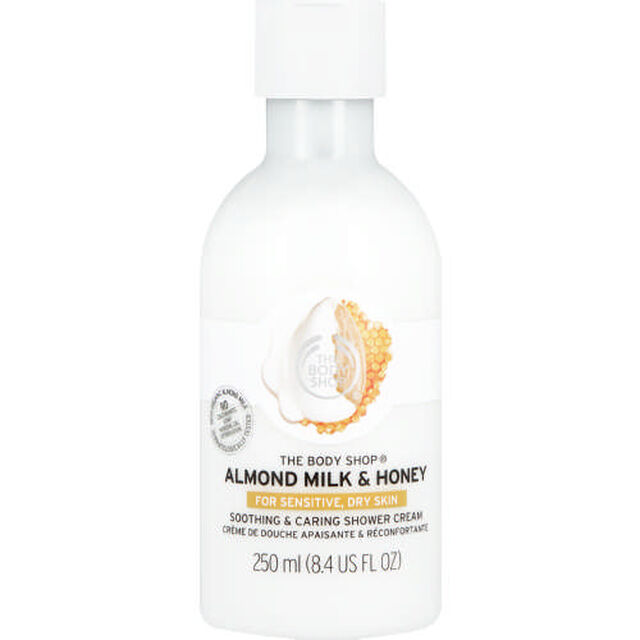 Recommended Products
Almond Milk Body Yoghurt 200ml

R 175.00

On promotion

Amond Milk and Honey Soothing and Restoring Body Lotion 200ml

R 160.00

On promotion

Almond Milk and Honey Soothing and Caring Cleansing Bar 100g

R 70.00

On promotion

Almond Milk & Honey Body Butter 200ml

R 214.40

On promotion

Almond Milk & Honey Shower Cream 60ml

R 50.00
Reviews
of this product
Suitable for Very Sensitive Skin
22 June 2020
So many products leave my skin itching and cause a nasty rash, even products supposedly for sensitive skin. Body Shop Almond Milk keeps my skin super moisturized, with zero itching. It is pure bliss.
Leave A Review
Ingredients
The world is our source of beauty
INGREDIENTS
The World Is Our Source Of Beauty
All Ingredients
Water, Cocamidopropyl Betaine, Glycerin, Helianthus Annuus Seed Oil/Helianthus Annuus (Sunflower) Seed Oil, Coco-Glucoside, Sodium Chloride, Fragrance, Acrylates/C10-30 Alkyl Acrylate, Crosspolymer, Citric Acid, Sodium Benzoate, Sodium Hydroxide, Glyceryl Laurate, Mel/Honey/Miel, Prunus Amygdalus Dulcis Oil/Prunus Amygdalus Dulcis (Sweet Almond) Oil, Disodium EDTA, Tocopherol, Polysorbate 20, Glycolic Acid, Denatonium Benzoate, Prunus Amygdalus Dulcis Seed Extract/Prunus Amygdalus Dulcis (Sweet Almond) Seed Extract, Xanthan Gum, Benzyl Alcohol, Dehydroacetic Acid.
Our Community Trade Programme
Did you know we pioneered fair trade in beauty in 1987 and today we have 26 Community Trade suppliers in 21 countries around the world, benefiting 25,000 people?
We source some of the finest raw ingredients and hand-crafted accessories from the four corners of the globe.  We harness the skills of small-scale farmers, traditional artisans and rural-cooperatives who are experts in their field.  We add our expertise to create effective products that are made with love and care.