Drops Of Light Brightening Serum 30Ml
ITEM 254313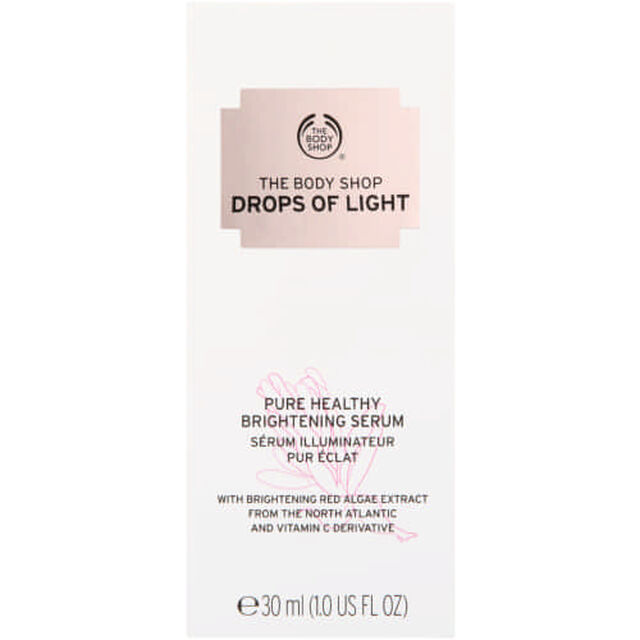 Drops Of Light Brightening Serum 30Ml
ITEM 254313
(13) Read Reviews Write Reviews
R 360.00
The Body Shop Drops Of Light Pure Healthy Brightening Serum 30ml is made with brightening red algae extract from the North Atlantic and vitamin C derivative. It is clinically tested to significantly reduce the number and intensity of dark spots. 100% Vegetarian.
Reviews
of this product
Drops of light serum
25 January 2019
I've been using this serum fir just over a month and it has drastically improved my skin. My dark marks have faded and my skin is glowing.
I work hard but this serum works harder!
5 May 2019
This is an all all-rounder, my skin is glowing , blemishes are disappearing, skin tone is even, texture has smoothened out , tired of counting but the list continues. Just get it !
This serum made my skin glowy and soft in less than a week! My dark spots have definitely faded after using the serum for a month.
Drops of light serum is magic
9 May 2019
I've been using it for 4 weeks now and my dark spots are fading. The skin glow just on another level.
Base for make up
6 July 2019
Using this before applying make up allows the skin to glow!
Its amazing
11 December 2019
After using it for 8 weeks I can say it really works. My dark marks and post inflammatory pigmentation marks have reduced in appearance.
Love, love the drops of light serum
25 May 2020
I've been been using the drops of light serum and the drops of light day cream twice a day consistently for about a month now and my skin has improved drastically. It really brightened my skin and is fading my blemishes. I love it!!
Love! Love it!
1 June 2020
After just one use I noticed a difference, skin feels smoother, looks brighter and dark marks fading away. I bought 3 bottles, just for control :)
Best serum ever
19 December 2020
I put this serum under my suncreen. I have been using for 2 months now. It's amazingly gentle yet so effective. My skin glowing, clear and flawless. I am dark-skinned & always loathed using consealers, with this serum i need nomore make up
No significant difference
5 February 2021
I've used this product for 6months. I have oily skin, it absorbs quickly and doesn't leave any residue. The smell is amazing. However, I haven't noticed any difference with my skin, skin hasn't evened out.
Works like a charm
11 April 2021
I've been using this together with the Drops of Light Brightening Liquid Peel and Brightening Day Cream for 2 weeks. My blemishes are fading away quicker than I expected and the glow, wow! Beyond amazed at how much my skin has improved.
Where Have You Been All My Life???
25 May 2021
Have been using this for only 1 week, and my complexion has COMPLETELY changed! No more sun /pimple-popping damage can be seen, and no more tired/dull skin! I am glowing! Even my boyfriend noticed! Somme went and bought the whole range now
Leave A Review
Ingredients
The world is our source of beauty
INGREDIENTS
The World Is Our Source Of Beauty
All Ingredients
Water, Butylene Glycol, Glycerin, PEG-20, Methyl Gluceth-20, Alcohol Denat., 3-0-Ethyl Ascorbic Acid, Aloe Barbadensis Leaf Juice Powder, Hydrolyzed Soy Flour, PEG-60 Hydrogenated Castor Oil, Rosa Centifolia Extract/Rosa Centifolia Flower Extract, Potassium Hydroxide, Sodium Citrate, Sodium Hyaluronate, Palmaria Palmata Extract, Disodium EDTA, Propylene Glycol, Hydroxyethylcellulose, Caprylyl Glycol, Citric Acid, Xanthan Gum, Pentylene Glycol, Sodium Benzoate, Salicylic Acid, Phenoxyethanol, Linalool, Fragrance.
Our Community Trade Programme
Did you know we pioneered fair trade in beauty in 1987 and today we have 26 Community Trade suppliers in 21 countries around the world, benefiting 25,000 people?
We source some of the finest raw ingredients and hand-crafted accessories from the four corners of the globe.  We harness the skills of small-scale farmers, traditional artisans and rural-cooperatives who are experts in their field.  We add our expertise to create effective products that are made with love and care.