Elderflower Unperfumed Eye Gel 15Ml
ITEM 242834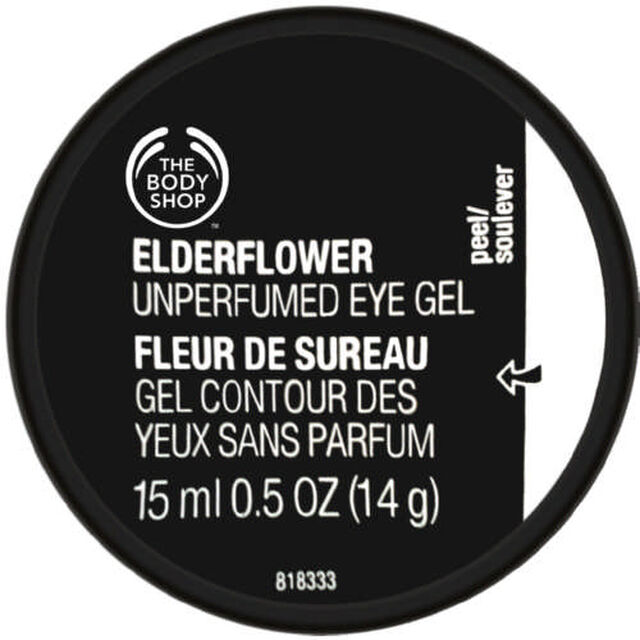 Elderflower Unperfumed Eye Gel 15Ml
ITEM 242834
(0) Read Reviews Write Reviews
R 115.00
The Body Shop Elderflower Unperfumed Eye Gel 15ml helps to instantly lift tired eyes and leaves the delicate eye area cooled, moisturised and soothed.
Similar Products
Drops Of Light Pure Healthy Brightening Eye Cream 15ml

R 305.00

Drops Of Youth Youth Bouncy Eye Mask 20ml

R 280.00

Oils Of Life Eye Cream 20ml

R 270.00

Camomile Gentle Eye Make-Up Remover 250ml

R 160.00

Camomile Waterproof Eye & Lip Make-Up Remover 100ml

R 200.00

Vitamin E Eye Cream 15ml

R 215.00

Elderflower Unperfumed Eye Gel 15ml

R 115.00

Drops of Youth Youth Eye Concentrate 10ml

R 280.00
Leave A Review
Ingredients
The world is our source of beauty
INGREDIENTS
The World Is Our Source Of Beauty
All Ingredients
Water, Hamamelis Virginiana (Witch Hazel) Distillate, Sambucus Nigra Water, Alcohol Denat., Glycerin, Triethanolamine, Carbomer, Imidazolidinyl Urea, Methylparaben, Denatonium Benzoate.
Our Community Trade Programme
Did you know we pioneered fair trade in beauty in 1987 and today we have 26 Community Trade suppliers in 21 countries around the world, benefiting 25,000 people?
We source some of the finest raw ingredients and hand-crafted accessories from the four corners of the globe.  We harness the skills of small-scale farmers, traditional artisans and rural-cooperatives who are experts in their field.  We add our expertise to create effective products that are made with love and care.