Seaweed Pore-Cleansing Facial Exfoliator 100Ml
ITEM 259591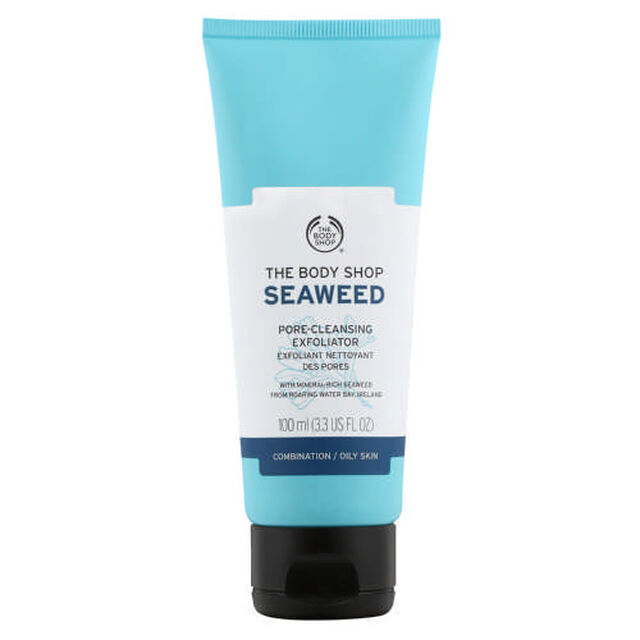 Seaweed Pore-Cleansing Facial Exfoliator 100Ml
ITEM 259591
(1) Read Reviews Write Reviews
R 185.00
The Body Shop Seaweed Pore-Cleansing Exfoliator 100ml is made with mineral-rich seaweed ethically sourced from Ireland, jojoba beads and olive stone, and helps to remove excess oils, trapped dirt, impurities and dead skin cells from deep inside pores. Perfect for combination and oily skin types. Skin is left feeling softer and smoother.
Similar Products
Tea Tree Squeaky-Clean Scrub 100ml

R 140.00

Tea Tree Daily Solution

R 245.00

Face Mask Tea Tree 100ml

R 200.00

Seaweed Pore-Cleansing Facial Exfoliator 100ml

R 185.00

Blackhead Remover

R 110.00

Tea Tree Skin Clearing Foaming Cleanser 150ml

R 140.00

Tea Tree Skin Clearing Mattifying Toner 250ml

R 140.00

Seaweed Oil Control Lotion SPF15 PA++ 50ml

R 270.00

Tea Tree Oil 10ml

R 140.00

Seaweed Oil Control Gel Cream 50ml

R 215.00
Reviews
of this product
Absolutely refreshing and amazing like first impressions really.last long with this one i must say
Leave A Review
Ingredients
The world is our source of beauty
INGREDIENTS
The World Is Our Source Of Beauty
All Ingredients
Water, Sodium Laureth Sulfate, Olea Europaea Seed Powder/Olea Europaea (Olive) Seed Powder, Acrylates Copolymer, Lauryl Betaine, Glycerin, Hydrogenated Jojoba Oil, Pentylene Glycol, Phenethyl Alcohol, Glyceryl Caprylate, Fragrance, Propylene Glycol, Sodium Hydroxide, Luffa Cylindrica Fruit, Fucus Vesiculosus Extract, Sodium Chloride, Disodium EDTA, Linalool, Butylphenyl Methylpropional, Benzyl Salicylate, Phosphoric Acid.
Our Community Trade Programme
Did you know we pioneered fair trade in beauty in 1987 and today we have 26 Community Trade suppliers in 21 countries around the world, benefiting 25,000 people?
We source some of the finest raw ingredients and hand-crafted accessories from the four corners of the globe.  We harness the skills of small-scale farmers, traditional artisans and rural-cooperatives who are experts in their field.  We add our expertise to create effective products that are made with love and care.