Rainforest Coconut Hair Oil 200Ml
ITEM 200374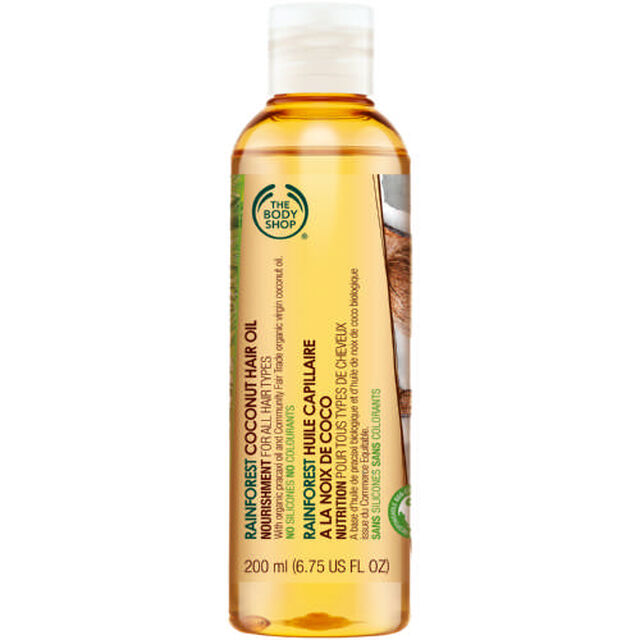 Rainforest Coconut Hair Oil 200Ml
ITEM 200374
(0) Read Reviews Write Reviews
R 200.00
The Body Shop Rainforest Coconut Hair Oil 200ml is ideal for weak and damaged hair. This luxurious oil easily melts into the hair and can be used overnight, leave-in, pre-wash treatment, leaving the hair feeling nourished and moisturised.
Similar Products
Satsuma Shower Gel 60ml

R 50.00

Rose Dewey Glow Face Mist 60ml

R 110.00

Mint Mattifying Face Mist 60ml

R 110.00

Coco Calming Face Mist 60ml

R 110.00

British Rose Shower Gel 60ml

R 50.00

The Body Shop Skin Defence 40ml

R 295.00

Skin Defence SPF50 Multi - Protection Essence 60ml

R 375.00

Rainforest Coconut Hair Oil 200ml

R 200.00

Vitamin C Energising Face Mist 100ml

R 215.00

Ginger Anti-Dandruff Shampoo 60ml

R 60.00
Leave A Review
Ingredients
The world is our source of beauty
INGREDIENTS
The World Is Our Source Of Beauty
All Ingredients
Glycine Soja Oil/Glycine Soja (Soybean) Oil, Cocos Nucifera Oil/Cocos Nucifera (Coconut) Oil, Fragrance, Tocopherol, Pentaclethra Macroloba Seed Oil, Helianthus Annuus Seed Oil/Helianthus Annuus (Sunflower) Seed Oil, Rosmarinus Officinalis Extract/Rosmarinus Officinalis (Rosemary) Extract, Coumarin, Citric Acid.
Our Community Trade Programme
Did you know we pioneered fair trade in beauty in 1987 and today we have 26 Community Trade suppliers in 21 countries around the world, benefiting 25,000 people?
We source some of the finest raw ingredients and hand-crafted accessories from the four corners of the globe.  We harness the skills of small-scale farmers, traditional artisans and rural-cooperatives who are experts in their field.  We add our expertise to create effective products that are made with love and care.