Aloe Foaming Face Wash 150Ml
ITEM 259596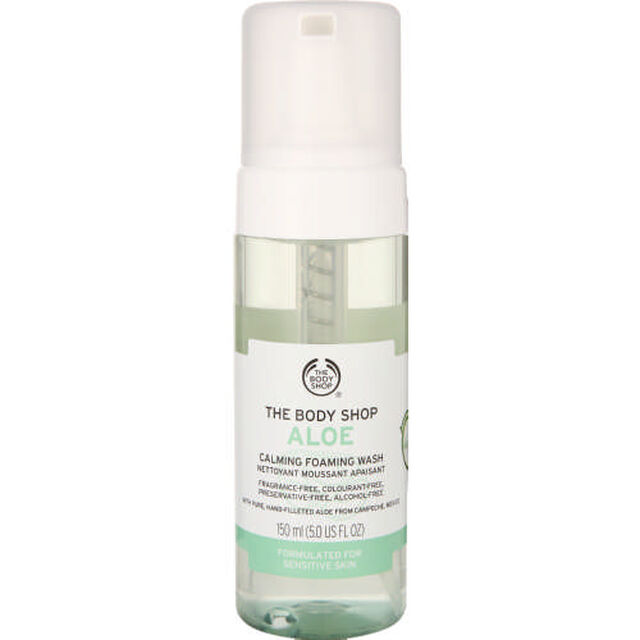 Aloe Foaming Face Wash 150Ml
ITEM 259596
(1) Read Reviews Write Reviews
R 200.00
The Body Shop Aloe Calming Foaming Wash 150ml is made with pure aloe from Mexico and is specially formulated to remove impurities, dirt and excess oils from the skin daily and leave it feeling soothed and cared for. Great for sensitive skins, because it contains no fragrances, colourants, preservatives or alcohol.
Reviews
of this product
Aloe calming foaming wash
8 June 2020
I've always had very sensitive skin, always red and burning, but after I started using the aloe calming wash my skin feels so soft and calm, thank you for this product, I'm going to continue using it from now on.
Leave A Review
Ingredients
The world is our source of beauty
INGREDIENTS
The World Is Our Source Of Beauty
All Ingredients
Water, Pentylene Glycol, Sodium Cocoamphoacetate, Sorbitol, Glycerin, Butylene Glycol, Citric Acid, Sodium Chloride, Sodium Laureth Sulfate, Disodium Cocoyl Glutamate, Polyglyceryl-2 Caprate, Polysorbate 20, Coco-Glucoside, Levulinic Acid, p-Anisic Acid, Sodium Cocoyl Glutamate, Sodium Levulinate, Sodium Hydroxide, Aloe Barbadensis Leaf Juice Powder.
Our Community Trade Programme
Did you know we pioneered fair trade in beauty in 1987 and today we have 26 Community Trade suppliers in 21 countries around the world, benefiting 25,000 people?
We source some of the finest raw ingredients and hand-crafted accessories from the four corners of the globe.  We harness the skills of small-scale farmers, traditional artisans and rural-cooperatives who are experts in their field.  We add our expertise to create effective products that are made with love and care.