Lemon Moisturising & Cleansing Hand Gel 250Ml
ITEM 343936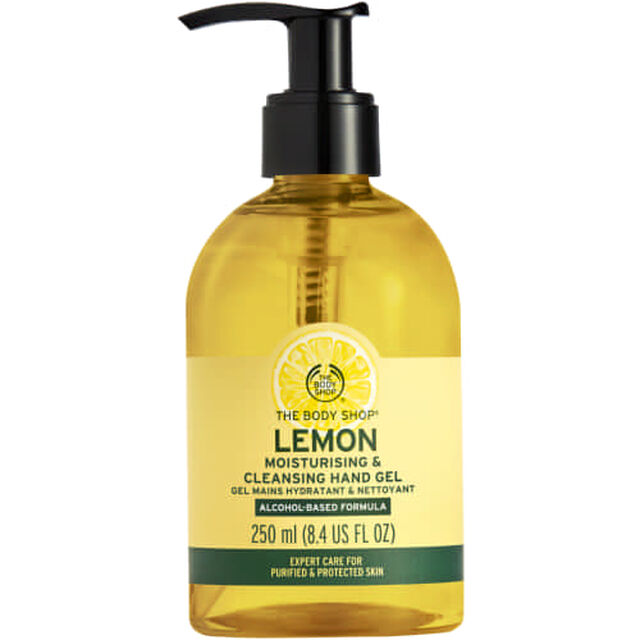 Lemon Moisturising & Cleansing Hand Gel 250Ml
ITEM 343936
(0) Read Reviews Write Reviews
R 150.00
The Body Shop Lemon Moisturising & Cleansing Hand Gel 250ml is perfect for cleansing your hands when there is no soap and water nearby. Made with 70% alcohol and natural lemon essential oil, it's clinically proven to kill 99.9% of bacteria, and leaves your hands feeling and smelling fresh.
Similar Products
Clementine & Starfruit Hair & Body Mist 150ml

R 200.00

CBD Hemp Nourishing Day Cream 50ml

R 360.00

On promotion

CBD Hemp Oil-Balm Cleanser 100ml

R 340.00

On promotion

CBD Hemp Restoring Facial Oil 30ml

R 390.00

On promotion

Lemon Caring & Purifying Hair Mist 100ml

R 150.00

Lemon Moisturising & Cleansing Hand Gel 250ml

R 150.00

Lemon Moisturising & Cleansing Hand Gel 100ml

R 85.00

Lemon Purifying Hand Wash 250ml

R 130.00

Lemon Protecting Hand & Body Lotion 200ml

R 160.00

Lemon Purifying Face Wash 125ml

R 95.00
Leave A Review
Ingredients
The world is our source of beauty
INGREDIENTS
The World Is Our Source Of Beauty
All Ingredients
Alcohol Denat., Water, Glycerin, Isopropyl Alcohol, Carbomer, Fragrance, Limonene, Hydroxypropylcellulose, Aminomethyl Propanol, Citral, Linalool, Geraniol, Citrus Limon Peel Oil/Citrus Limon (Lemon) Peel Oil, Denatonium Benzoate.
Our Community Trade Programme
Did you know we pioneered fair trade in beauty in 1987 and today we have 26 Community Trade suppliers in 21 countries around the world, benefiting 25,000 people?
We source some of the finest raw ingredients and hand-crafted accessories from the four corners of the globe.  We harness the skills of small-scale farmers, traditional artisans and rural-cooperatives who are experts in their field.  We add our expertise to create effective products that are made with love and care.