Tea Tree Face Wash Limited Edition 400Ml
ITEM 237130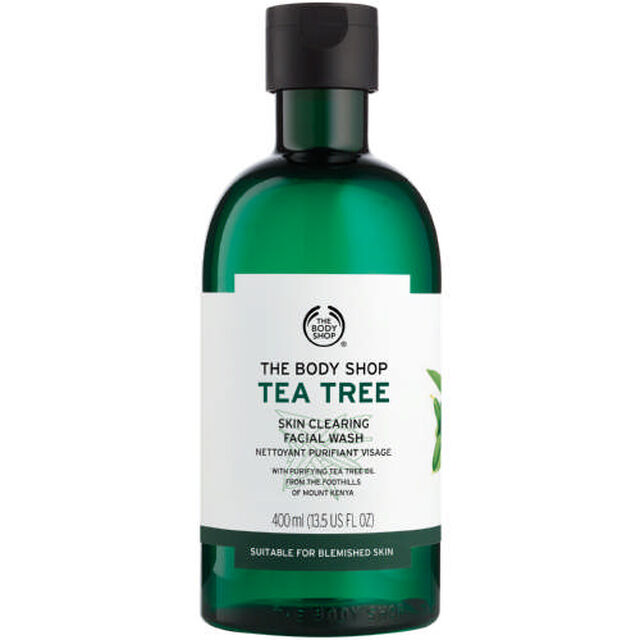 Tea Tree Face Wash Limited Edition 400Ml
ITEM 237130
(3) Read Reviews Write Reviews
R 190.00
The Body Shop Tea Tree Skin Clearing Facial Wash Limited Edition 400ml is specially formulated with blemished skin in mind. It's hard-working, yet gentle on blemished skin, leaving you with that refreshed feeling.
Similar Products
Carrot Wash Energising Face Cleanser 100ml

R 175.00

Oils of Life Intensely Revitalising Clansing Oil-In-Gel 100ml

R 280.00

Himalayan Charcoal Purifying Clay Wash 125ml

R 165.00

Tea Tree Face Wash Limited Edition 400ml

R 190.00

Drops Of Youth Youth Gentle Foaming Wash 150ml

R 270.00

Tea Tree Squeaky-Clean Scrub 100ml

R 140.00

Tea Tree 3-IN-1 Wash.Scrub.Mask 25ml

R 200.00

Drops Of Light Brightening Cleansing Foam 150ml

R 235.00

Drops Of Light Brightening Essence Lotion 160ml

R 270.00

Camomile Silky Cleansing Oil 200ml

R 270.00
Reviews
of this product
Amazing Fav Product
18 October 2018
I've had problem skin my Whole life , and this is the only product that works on me. Removes my blemishes and leaves my skin feeling Fresh.
Really good product
4 December 2018
I have just recently started using it as I have combination skin with random break outs. I love that it doesn't dry my skin out but really cleanses it well and removes makeup traces. My skin is also very sensitive so it doesn't irritate it.
Great for acne and scaring
27 June 2020
I struggle acne prone skin and this is the only product I have found to reduce active acne and scaring. I
Leave A Review
Our Community Trade Programme
Did you know we pioneered fair trade in beauty in 1987 and today we have 26 Community Trade suppliers in 21 countries around the world, benefiting 25,000 people?
We source some of the finest raw ingredients and hand-crafted accessories from the four corners of the globe.  We harness the skills of small-scale farmers, traditional artisans and rural-cooperatives who are experts in their field.  We add our expertise to create effective products that are made with love and care.